Home | Galleries | Chairs | Cover Art | About Tim | Statement | Contact
Please Take A Seat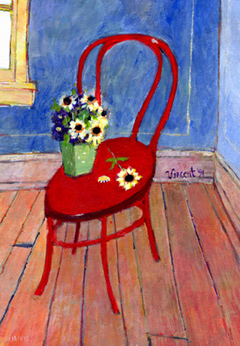 Artists and non-artists decorated, deconstructed and/or autographed chairs to raise money for neonatal research at Magee Women's Hospital in Pittsburgh.
Ellen Chisdes Neuberg, owner of GalleriE Chiz, asked me to do one.Nordstrom Promo Code 2014 Her gallery hosted the "Please Take a Seat" reception, and the dinner and auction were at a downtown hotel.
I didn't have any extra chairs lying around, so she gave me this green hairpin-back bentwood number. I painted it red, arranged a still life with flowers, el-cheapo Dollar Store tin vase, and cap from a Dogfish Head IPA , and worked up my ersatz Van Gogh
"Still Life with Flowers & Bottle Cap."
Original x gouache on paper:
Unframed $300, Framed $400.
Contact Tim